Syrian state television has said a number of fighters and their families had begun to leave the besieged rebel-held enclave of Eastern Ghouta in Syria.
It reported that 13 fighters and their families had arrived at the crossing point.
It also showed footage of people getting onto a bus.
The correspondent said the men were fighters who had come out of the besieged area through the al-Wafideen crossing into government-held Syria.
The Syrian rebel group Jaishal-Islam said it had agreed to evacuate Nusra Front fighters being held in its prisons in Eastern Ghouta to rebel-held Idlib province.
In a statement published on Twitter, the group said the decision had been made in consultation with the United Nations, a number of international parties and civil society representatives from Eastern Ghouta.
"After our meeting today with the delegation which entered Ghouta accompanying the aid convoy, an agreement was reached to evacuate the first batch of (Nusra Front) members present in the prisons of Jaish al-Islam who had been detained during security operation that Jaish al-Islam began on 28 April 2017," according to the group's leadership.
Eastern Ghouta has been besieged for years, but in the last two weeks, the Syrian army has retaken nearly all of the farmland there under cover of near-ceaseless shelling and airstrikes, leaving only a dense sprawl of towns – about half the territory – still under insurgent control.
Earlier today, an emergency aid convoy crossed front lines into Eastern Ghouta and delivered its supplies, braving shellfire and air strikes in the area.
The 13 trucks unloaded their food aid in the rebel-held town of Douma and returned to government-controlled territory despite fighting which the International Committee of the Red Cross said came extremely close to the convoy.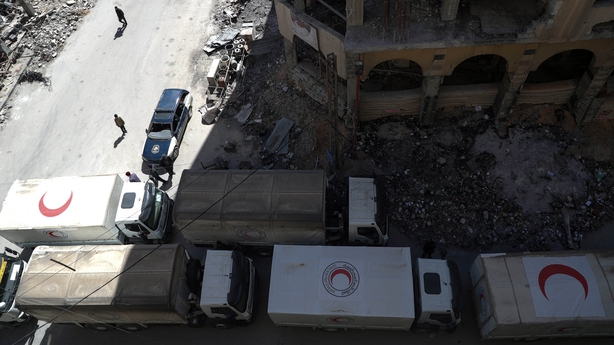 The deal to evacuate members of Tahrir al-Sham, an alliance of jihadist factions linked to the Nusra Front, formerly the Syrian branch of al Qaeda, mirrors previous evacuation deals across Syria.
In many cases, rebels have surrendered terrain in return for safe passage to other opposition areas for themselves, as well as relatives and other civilians loath to fall back under President Assad's rule.
The onslaught has killed more than 1,000 people, the medical charity Medecins Sans Frontieres said yesterday.
The Syrian Observatory for Human Rights has given a death toll of 931 civilians in the campaign.
Source link